-By Jenny Chen, Campaign China, April 20 2017-
Lee will terminate her 60-40 time-spilt arrangement with WPP and dedicate all her time to her startup venture, Withinlink.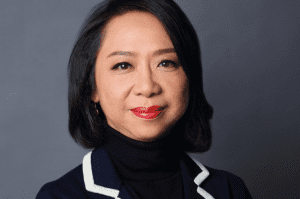 Bessie Lee, one of China's most experienced media executives, has resigned as CEO of WPP China with effect from 1 May. She will focus full time on Withinlink, a China-based startup incubator and early-stage venture fund she founded.
Lee has been China CEO since 2013, during which time she said she was responsible for more than USD$1 billion in annual revenue in that market. (WPP's annual report does not single out China, but the latest report gave the revenue number for the Greater China region as US$1.6 billion.) During her 27-year WPP career, Lee also served as the CEO of GroupM China.
WPP has not made any statement concerning Lee's replacement.
Lee founded Withinlink in 2015 and made an agreement with WPP for a 60-40 spilt of her time: Mondays to Wednesdays for WPP and Thursdays and Fridays for Withinlink.
Reality wasn't that clear cut, of course."I've been working every weekend for the past…I can't remember how long," Lee told Campaign Asia-Pacific. "I feel like it's getting to be a stretch for me this year, so I decided to quit to focus on Withinlink."
"After 27 years with WPP, it's high time I start to focus on my core passion: new technology, entrepreneurship, and venture funding," she added.
As China moves further into the digital age, momentum has shifted from established corporations to startups and entrepreneurs, Lee said. "China's best and brightest are founding companies, innovating, and disrupting the existing order with so much energy that it has made me want to be part of that change."
Lee said she believes she can bring more value to Withinlink in a full-time capacity than perhaps she can to WPP's well-established China operations.
"WPP is large…"she said."I tried to see if I could work with the companies to drive change, but I guess all the them are very mature and established, compared to our [Withinlink] startups, with little legacy to continue and protect. It is a lot easier to drive change in such an environment."
This is not to say WPP companies are not doing anything to drive change, she clarified, but size and legacy are factors in the mix.
In addition, Lee noticed that China's talented people are "too impatient these days to spend years working for salary at large corporations". In contrast, the entrepreneurial world is "alive" with "amazing" energy from "nimble" startups, where "founders shoot for the stars and often hit jackpots in the capital markets as rewards for their risk-taking".
Young entrepreneurs need funding and guidance, she added.
Withinlink recently closed an inaugural fund totaling RMB 55 million (US$8 million). This was achieved over a three-month period in 2016 and enables Withinlink to augment seed- stage investment in the startups it has already been incubating and make new early-stage investments.
Withinlink's financial backers include a diverse group of undisclosed media executives, high-net-worth individuals and governmentbodies.
"We targeted to raise only RMB 50 million in a time period of six to eight months, but we reached RMB55million in only three months,by the end of last year,"Lee said."It was a surprise."
While China has an abundance of venture-capital firms, many VCs lack basic knowledge of the advertising ecosystem and the ins and outs of how ad budgets are allocated, she commented.
"Our team's knowledge came from actual experience we had and actual work we have done before in the industry," she said. "We all came to this company with more than20 years of extensive experience."
Apart from funding, what Withinlink can offer startups is insight into marketer pain points, Lee stated. "They are almost never going to get that from other investors."
Disassociating from her longtime employer will be a good move, Lee predicted. There was "always a perceived conflict of interest" when she was still at WPP; at the same time working on the growth of the portfolio companies under Withinlink. "Now, I am free to introduce my portfolio companies to [Dentsu Aegis Network], for example," she said.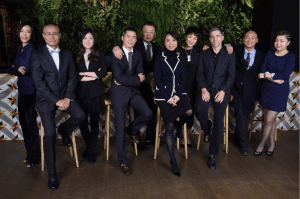 The Withinlink team (with Lee sixth from left)
Over the past two years, Withinlink has made angel investments in more than a dozen China-based startups in mobile advertising, big data and analytics, social media and the internet of things.
Apart from one O2O platform for universities that expanded slower than expected, current promising investments include Pingcoo (mobile advertising solutions), FugeTech (trading desk and data-exchange platform), Gululu (smart hardware), Zhimatech (retail shoppers' behavior data platform), WeTalk (social media user engagement tracking and management system), Zaojiu (premium content platform) , Robin8 (web influencer search engine and platform) and RabbitPre (H5 creative automation and user engagement tracking).
"Now, I can be fully dedicated to startups I have already invested in China, and also look beyond China," Lee said. "I will have much better allocation of my time, and travel flexibility togotomarketswhichareinterestingandinnovative."
In 2017, Withinlink will also target to raise a second and much larger US-dollar fund that will target Chinese tech firms as well as US-based startups with products or servicesthat have high potential in China.
Lee is also an independent director on the board of Ecovacs, the world's second largest robotic appliance company. She is also co-founder and current co-chair of the Mobile Marketing Association in China.