Webinar | AI and Innovation in Marketing Technology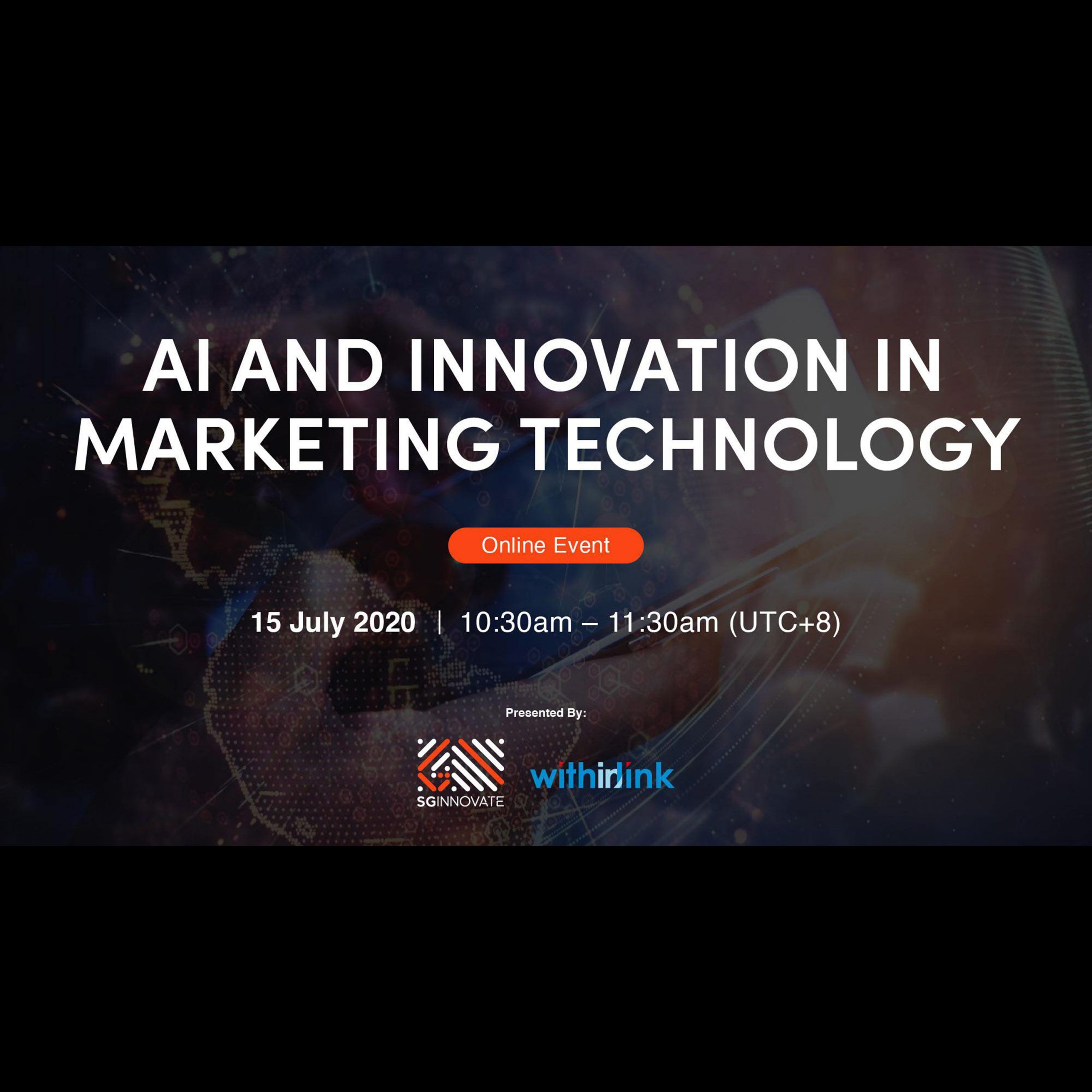 July 15.2020     Presented by SGInnovate and Withinlink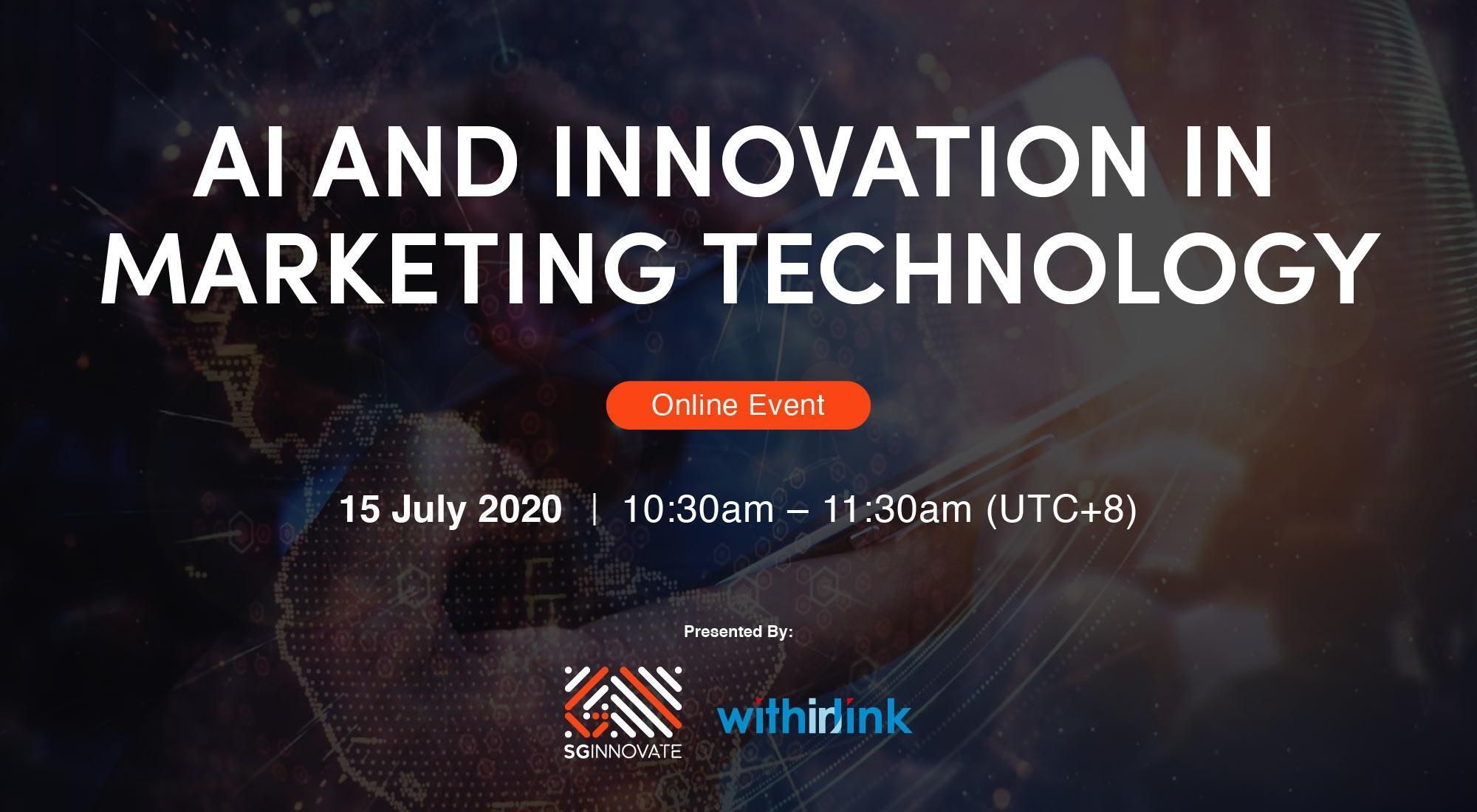 In today's society, more and more people have turned to online resources for various essential services and to obtain information about the world. Now, when the term "work from home" is no longer a stranger to all, it is all the more crucial to look into how businesses can better engage end consumers through digital platforms.
Marketing Technology, or "MarTech", has gained increased attention in recent years with the ever-rising demand for digital information. It refers to a series of applications or software which enable marketers to be able to measure and track marketing performance and apply insights to future campaigns just by collecting and analysing results from past or existing ones, in a multi-touchpoint, omnichannel digital environment.
In this event, we look at how marketers and brands across the Asia Pacific, especially China and Singapore, are using and investing in AI and Marketing Technology. This session looks at the current state of the MarTech industry in Asia and where it is heading and how to help marketers navigate the ever-increasing tools and technology available.
Date: 15 July 2020
Time: 10:30am – 11:45am (UTC+8)
Programme:
10:30am – 10:50am: Presentation on MarTech
Bessie Lee, Founder and CEO, Withinlink
10:50am – 11:30am: Panel Discussion
Will Hanschel, CEO and Co-founder, Pencil
Winder Chen, CEO and Founder, Kuaizi Technology, Founder of Quick Decision
Danielle Jin, Chief Marketing Officer, VISA, Greater China
Moderator: Bessie Lee, Founder and CEO, Withinlink
11:30am – 11:45am: Q&A
Speakers' Profile:
Bessie Lee, Founder and CEO, Withinlink
Bessie Lee is Founder and CEO of Withinlink, a China-based startup incubator and early-stage venture fund focused on marketing technology that supports China's media communications industry.
With more than 30 years of experience in the media communications industry in Greater China, exclusively across a number of WPP companies, Bessie draws upon an extensive network of thought leaders as well as a team of C-suite media and marketing executives, investment professionals and entrepreneurs, to offer extensive experience in business management and networks to fund and mentor startups.
Before founding her own company, she was CEO of WPP China beginning in 2013, where she was responsible for 14,000 employees and more than $1 billion in annual revenue. Bessie also served as the CEO of GroupM China. During her seven-year tenure, GroupM's media billings in the country tripled, and GroupM was named the number one media holding group in China in terms of billings for five consecutive years from 2007 to 2012, according to RECMA.
As one of the most experienced and highly respected individuals in China's media and martech industry, Bessie's professional success is reflected in the many hats she wears as a frequent media commentator, blogger and a highly sought-after international public speaker, having presented many times at Cannes Lions' International Festival of Creativity, FT Future of Marketing, SXSW and TechCrunch China. Bessie was the Innovation Jury President at the Spikes Asia Awards 2017 and a member of the Jury of Innovation Lions at Cannes Lions Festival of Creativity 2018.
Will Hanschel, CEO and Co-founder, Pencil
Will is the Co-Founder and CEO of Pencil, where he is applying machine learning and AI to the biggest problems in commercial creativity. Previously, Will worked as a management consultant embedded in creative agencies for almost 10 years. He has significant experience managing and architecting data-driven marketing for some of the world's biggest brands, including Samsung, Starbucks, Shell, InterContinental Hotels Group, Philips, Virgin and TomTom. Most recently, Will co-founded the Singapore consulting practice of Iris Worldwide, a multi-award winning global creative agency, and took the business to several million in income and double the agency's global margin in 18 months. Will graduated from the University of Cambridge with a Masters in Engineering.
Winder Chen, CEO and Founder, Kuaizi Technology, Founder of QuickDecision
Winder Chen has over 13 years of rich experience in brand building, digital marketing and technology entrepreneurship.
Winder joined P&G Greater China in 2005, and he started in the Personal Care sector for the local market, leading equity winning brand with dominant market share and in 2009 promoted to lead 5 global markets. He led a global team to immerse into the consumer lives of different markets and built the new brand architecture and ten years innovation roadmap and brand strategy, and also is involved into new market expansion like Africa and LATAM.
From 2011-2013, Winder took the role of Marketing Director for Digital Media & Innovations for P&G Greater China, in which he oversaw total P&G digital media operations, including video, display, search and social investment strategy and operation optimisation, plus active explorations for P&G in big data, mobile marketing etc., during when P&G has risen to FMCG's leading digital player.
In Apr 2014, Winder became GM of Tuniu.com(NASDAQ: TOUR). In just three months he integrated the entire operations of Tuniu's Marketing organisation and Mobile team.
In July 2014, Winder became Founder and CEO of Kuaizi Technology devoted to the development of AI Creative Platform and technology aiming to transform the creative efficiency, effectiveness and insights of digital marketing.
In 2016, Winder was awarded FastCompany China Top 50 Most Creative People in Business. Winder was also Awarded "40 Under 40" of P&G Global Alumni Summit 2017 and received the award in P&G's Cincinnati HQ in Oct 2017.
In 2017, Winder also co-founded QuickDecision, an AI Marketing Research Technology Platform and also served as CEO.
In his spare time, Winder also acts as Board Member and Trainer for TEDxZhujiangnewtown and Coach of Founder Institute China.
Danielle Jin, Chief Marketing Officer, VISA, Greater China
Danielle Jin joined Visa in May 2016 as Head of Marketing for Greater China and is responsible for leading the Greater China marketing team to build a world-class marketing function, developing and executing a marketing strategy designed to create a successful challenger brand domestically in the face of market opening, while at the same time showcasing Visa's global strength.
Danielle is a seasoned marketer and strategist with 20 years experience both in China and U.S., with a track record in turning around the underperforming business, launching innovation, and delivering ground-breaking marketing campaigns.
Prior to Visa, Danielle was Vice President, Beverage Category for PepsiCo China. In this role she led the entire beverage category growth strategy, as well as the marketing & innovation agenda. Before PepsiCo, she was director of Marketing with Ghirardelli Chocolates in San Leandro, CA. Prior to that, she worked with McKinsey & Co in Atlanta, GA. Danielle started her career with Unilever.
Danielle is a published writer with two books, numerous short stories and essays, and is a guest lecturer on strategy and Marketing topics. She holds a Bachelor of Business Administration, Marketing, from Fudan University, China and an MBA from Yale University, USA.